Summer is a great time to catch up on edifying reading. There is no shortage of books hot off the press to explore. Here are some suggestions related to the Second Reformation. 
They begin from a starting out level of reading and progress through books that help you explore further before we reach the more advanced level.
1. Master Robert Bruce
What happened between the first and second Reformations in Scotland? One great way of answering that question is to get into this biography of a key individual who came after John Knox. 
Robert Bruce needed a steely resolution to withstand conflict and persecution. His penetrating preaching was blessed by God in a time of revival that prepared the way for the Second Reformation. Sadly, Bruce died not long before the time of the Covenant. 'No man', said John Livingstone, 'since the apostles' time spake with such power'.
D. C . Macnicol tells a gripping story of a tumultous life. Master Robert Bruce, a man whose soul and conscience were wholly mastered by God. 
2. Spiritual Rest During Trials
The afflictions of the people of God may be fierce, like the scorching sun. Sometimes they feel faint under these trials, seeking relief wherever they can. Yet Christ has provided shade for his afflicted flock to find rest. In the midst of their trials they must avoid finding rest anywhere other than in him.
This book contains a very spiritual and attractive exposition of this theme – a sermon on Song of Solomon chapter 1, verse 7. It continues to offer great encouragement to the people of God.
Hugh MacKail was a godly young man who was going to suffer for preaching this very message. He would have to put it into practice. An introduction explains the remarkable context of MacKail's sermon and life. The book also contains his final testimony, written after torture and before his martyrdom.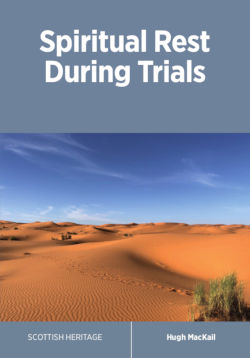 3. Our Faith: Understanding Scripture with the Westminster Confession
All believers seek to interpret the Bible. But too often our personal understanding can be fuzzy and patchy. We don't see how truths relate to each other and we struggle to articulate them. The Westminster Confession of Faith has helped many generations across the world to have a clear and orderly understanding of biblical truth. It helps us to share our faith together and respond with appropriate worship.
Our Faith is a straightforward resource that enables everyone to do this by removing difficulties and providing helpful explanations. It has a section that explains simply the meaning of the relevant paragraph of the Confesson. A glossary defines difficult words. There is also a summary explanation of why the Scripture references listed are relevant. There are also questions with outline answers to check your understanding. It is well suited for personal or group study and especially for getting to grips with the Confession if you have not studied it carefully before.
4. Conflicts between Doubt and Assurance
Bessie Clarkson is a troubled woman, her doubts about her own salvation are so severe that she seems to resist all spiritual help. Can she find hope in the midst of seeming despair? This account is both touching and harrowing as we follow her dialogue with her minister William Livingstone.
This godly man was the father of John Livingstone. He seeks to faithfully counsel a person who despairs of assurance in a way that seems virtually irrecoverable. Her words demonstrate what conflicts a soul may endure and how we dare not treat such matters lightly.
The touching account of his conversations with her shows how a faithful spiritual counsellor may deal tenderly with such a difficult situation. As William Livingstone concludes, believers must labour to have a lively and effectual faith, in the depth of our soul.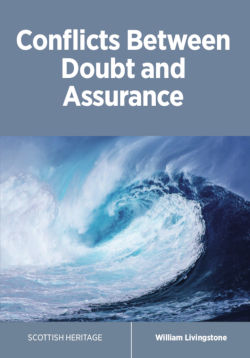 5. SELECT PRACTICAL WRITINGS OF ROBERT TRAILL
Robert Traill knew the leading Covenanters well. The son of a persecuted minister, he likewise suffered, being imprisoned on the Bass Rock. His ministry was largely in England, however, and he outlived the period of persecution.
This volume is a good introduction to his writings which have been commended for the "zeal, the sincerity, and fervent piety" that pervade them. There is a simple yet powerful clarity in the way that he opens up the Scriptures.
Strive for the knowledge of him. It is the ignorance of God that is the most universal cause of all the sin and misery in the world, and in the church.
6. The Works of Robert TrailL
This reprint of the Works of Robert Traill also includes ten additional sermons not in previous editions. The writings of Traill have proved constantly popular. John Howie said, "The simplicity and evangelical strain of the works of Mr. Traill have been savoury to many, and will ever be so, while religion and Scripture doctrine are in request." He wrote a clear defence of the doctrine of justification intending "plainly and briefly, to give some information to ordinary plain people". He expounds the nature of prayer and the throne of grace in thirteen sermons. Equally rich are sixteen sermons on John 17:24 that deal with Christ's prayer and His desires for His people.
I know no true religion but Christianity; no true Christianity but the doctrine of Christ— of his divine person; of his divine office; of his divine righteousness; and of his divine Spirit. I know no true ministers of Christ, but such as make it their business, in their calling, to commend Jesus Christ, in his saving fulness of grace and glory, to the faith and love of men; no true Christian, but one united to Christ by faith, and abiding in him by faith and love, unto the glorifying of the name of Jesus Christ, in the beauties of gospel-holiness.
7. The Divine Right of Church Government
Church government may be studiously neglected by many today but it is still an important subject. This volume was written by those who were prominent in the Westminster Assembly and their friends to explain clearly how Christ's Church is to be governed. The result is a carefully reasoned volume that is still unsurpassed.
Part 1 is worth the price of the book itself in establishing the general principle of how we know whether something has divine authority.  Part 2 takes up what form of church government is established by Scripture to be of divine right. It also helps define the limits of civil government jurisdiction in relation to the church.
In The Church of Christ, James Bannerman said this "work contains an extremely able, thorough, and satisfactory discussion of most of the points relating to the nature of Church government as a Divine institution, and to the power or authority of the Church, its seat and exercise."
READ MORE
LIKE THIS
Subscribe to our weekly newsletter and receive an updated article every week.