Top 10 Second Reformation Books of 2020
Although it has been a strange year for many things, it doesn't seem to have stopped books being published. It's common at this time of year to look back at the best books of the year. It can be a useful to do that. Here are the best books published during 2020 from or about the Second Reformation. We have some of our own but this page highlights other publications. Other productions could have been included such as the Works of Thomas Manton and a new critical edition of the Westminster Confession but this list is limited to ten.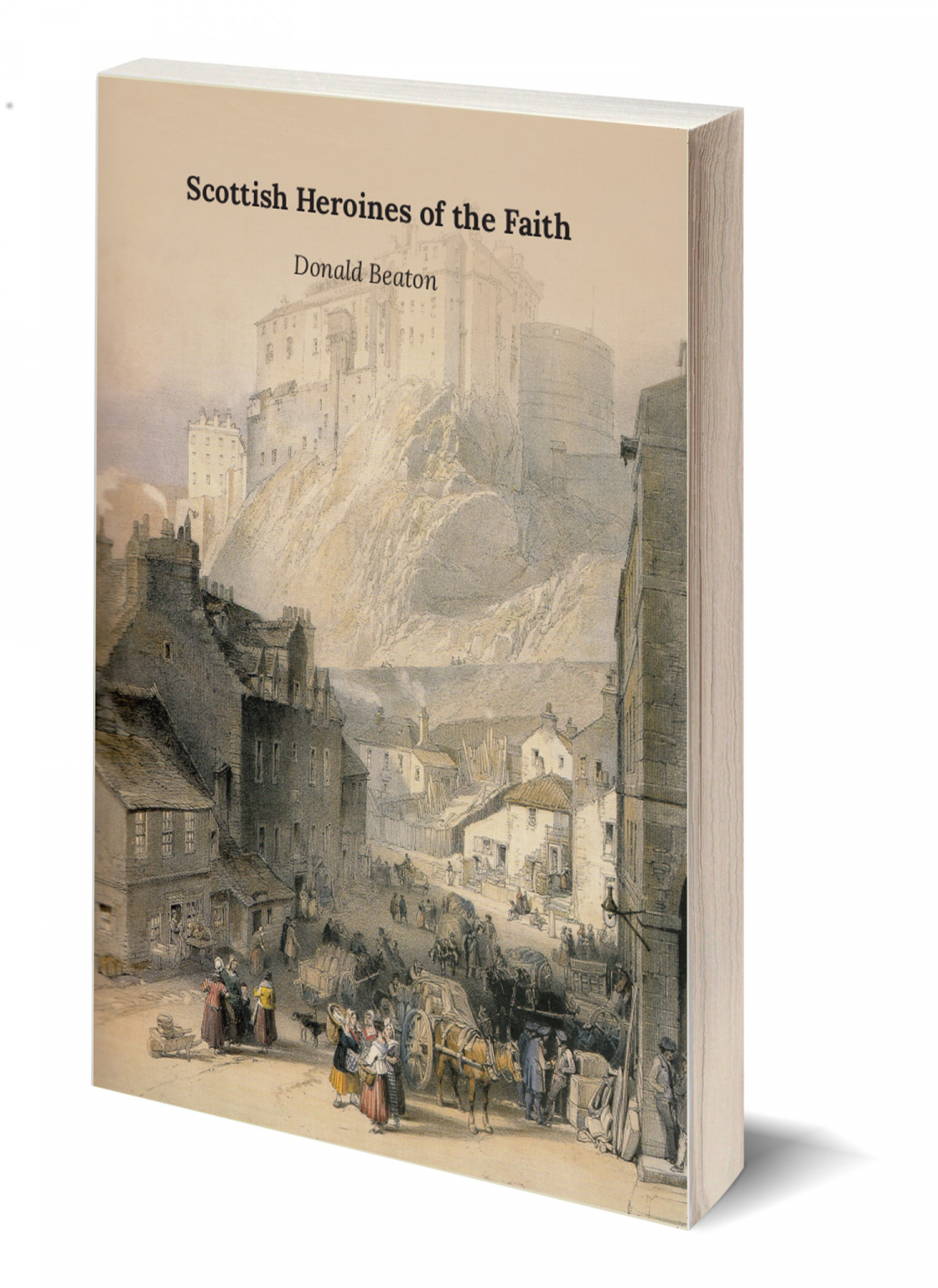 1. Scottish Heroines of the Faith​
What trials did women experience during the times of persecution? What do we know about the the wives of noted men like James Guthrie, John Livingstone and James Durham?  Written at the beginning of the 20th century by Donald Beaton these short biographies provide much of the answer to these questions.
We also encounter high-born women who used their influence for the cause of Christ and left an example of godly living. Some witnessed the suffering and martyrdom of their husbands. Others were called to suffer themselves and lay down their own lives. They provide an example of courageous godliness that we can still learn from today. As the author himself put it, "the very fact of being brought into communion with a people who loved their lives not unto the death, is an inspiration not to be lightly esteemed." We come to see "in a measure what they suffered for their love and fidelity to the truth as it is in Jesus."
2. Spiritual Rest During Trials
The afflictions of the people of God may be fierce, like the scorching sun. Sometimes they feel faint under these trials, seeking relief wherever they can. Yet Christ has provided shade for his afflicted flock to find rest. In the midst of their trials they must avoid finding rest anywhere other than in him.
This book contains a very spiritual and attractive exposition of this theme – a sermon on Song of Solomon chapter 1, verse 7. It continues to offer great encouragement to the people of God.
Hugh MacKail was a godly young man who was going to suffer for preaching this very message. He would have to put it into practice. An introduction explains the remarkable context of MacKail's sermon and life. The book also contains his final testimony, written after torture and before his martyrdom.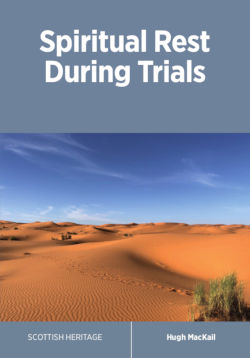 3. Preaching Without Fear Or Favour
Robert Bruce was a powerful preacher  these previously unpublished sermons offer fresh insights about the "cloud of witnesses" in Hebrews 11. This volume offers the rare opportunity to hear an echo (in updated language) of the type of preaching that shaped Scotland in momentous times. "As we would expect from sermons on Hebrews 11, the emphasis on Christ is on his meritorious sacrifice for sin…His blood, his cross, his grace, his forgiveness – all are at the centre of every expression of gospel truth" (David Searle).  "He speaks too of the grace that enables the believer to see Christ's face. Thus the doctrine of justification, which he fully expounds in terms of Christ's righteousness being imputed to us through faith, is clearly set forth" (David Searle). Much comfort is also offered to doubting believers.
"How can it be possible for the preacher to move and persuade you, unless he himself is moved and persuaded in his own heart by the same Holy Spirit?", Bruce asks. Here are the sermons of one who knew what this meant.
4. Conflicts between Doubt and Assurance
Bessie Clarkson is a troubled woman, her doubts about her own salvation are so severe that she seems to resist all spiritual help. Can she find hope in the midst of seeming despair? This account is both touching and harrowing as we follow her dialogue with her minister William Livingstone.
This godly man was the father of John Livingstone. He seeks to faithfully counsel a person who despairs of assurance in a way that seems virtually irrecoverable. Her words demonstrate what conflicts a soul may endure and how we dare not treat such matters lightly.
The touching account of his conversations with her shows how a faithful spiritual counsellor may deal tenderly with such a difficult situation. As William Livingstone concludes, believers must labour to have a lively and effectual faith, in the depth of our soul.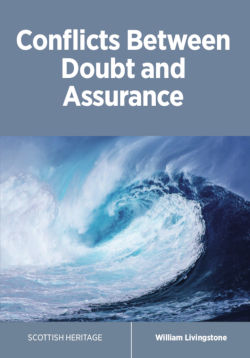 5. Master Robert Bruce
What happened between the first and second Reformations in Scotland? One great way of answering that question is to get into this biography of a key individual who came after John Knox.
Robert Bruce needed a steely resolution to withstand conflict and persecution. His penetrating preaching was blessed by God in a time of revival that prepared the way for the Second Reformation. Sadly, Bruce died not long before the time of the Covenant. 'No man', said John Livingstone, 'since the apostles' time spake with such power'.
D. C . Macnicol tells a gripping story of a tumultous life. Master Robert Bruce, a man whose soul and conscience were wholly mastered by God.
6. The SCANDAL OF STUMBLING BLOCKS: AVOIDING SPIRITUAL HARM
Have you ever considered the seriousness of causing someone else to stumble? That is, to hinder someone's spiritual wellbeing. Does it surprise you that the apostle Paul describes it as evil (Rom. 14:20)?
In The Scandal of Stumbling Blocks, James Durham helps us to consider the matter deeply by defining the nature of stumbling as well as showing its serious consequences. He looks in considerable detail at different kinds of stumbling and identifies the ways that people can stumble and be stumbled. Durham provides practical advice for avoiding and preventing offense.
Now edited in modern English, Durham's classic treatment on considerate Christianity can be used to edify a new generation.
There is no sin that has more woes pronounced against it. The Lord Himself denounces it and doubles a woe against it in Matthew 18:7. The apostle confirms this in Romans 14:20, where he describes it as literally evil to do something that will make a brother stumble. The Lord takes special notice of how people walk in reference to causing stumbling in others and is highly provoked where He sees anyone guilty of it (Rev. 2:6).
7. SERMONS ON LAMENTATIONS
This rare, never-before-published volume powerfully expounds a neglected book of Scripture. David Dickson carefully applies Lamentations in a time not only of epidemic disease, international turmoil, economic devastation, and persecution but also of revival. There are clear parallels with our own time, particularly the unprecedented circumstances of upheaval in the nations of the world. Dickson also deals with church decline and argues that its afflictions should cause us great sorrow. Yet he also shows how Lamentations gives those with such heavy hearts words with which to sorrow in hope. This edition has been carefully produced from notes taken by a member of Dickson's congregation.
8. EXPOSITION OF REVELATION 1-3
This exposition by James Durham powerfully and searchingly applies the letters to the seven churches in Asia. "The mystery of the gospel fills it with sweet savour" (C H Spurgeon). Also included are independent treatises covering subjects such as the doctrine of the Trinity, a call to the ministry and qualifications for the ministry, church government and church discipline, repentance, the difference in common and saving grace, and preaching and application in preaching.
The text has been collated with a 1653 manuscript and an appendix contains texts and full lectures that are significantly different than the published edition of 1658. 
10. The Works of Robert TrailL
This reprint of the Works of Robert Traill also includes ten additional sermons not in previous editions. The writings of Traill have proved constantly popular. John Howie said, "The simplicity and evangelical strain of the works of Mr. Traill have been savoury to many, and will ever be so, while religion and Scripture doctrine are in request." He wrote a clear defence of the doctrine of justification intending "plainly and briefly, to give some information to ordinary plain people". He expounds the nature of prayer and the throne of grace in thirteen sermons. Equally rich are sixteen sermons on John 17:24 that deal with Christ's prayer and His desires for His people.
I know no true religion but Christianity; no true Christianity but the doctrine of Christ— of his divine person; of his divine office; of his divine righteousness; and of his divine Spirit. I know no true ministers of Christ, but such as make it their business, in their calling, to commend Jesus Christ, in his saving fulness of grace and glory, to the faith and love of men; no true Christian, but one united to Christ by faith, and abiding in him by faith and love, unto the glorifying of the name of Jesus Christ, in the beauties of gospel-holiness.
9. The Divine Right of Church Government
Church government may be studiously neglected by many today but it is still an important subject. This volume was written by those who were prominent in the Westminster Assembly and their friends to explain clearly how Christ's Church is to be governed. The result is a carefully reasoned volume that is still unsurpassed.
Part 1 is worth the price of the book itself in establishing the general principle of how we know whether something has divine authority.  Part 2 takes up what form of church government is established by Scripture to be of divine right. It also helps define the limits of civil government jurisdiction in relation to the church.
In The Church of Christ, James Bannerman said this "work contains an extremely able, thorough, and satisfactory discussion of most of the points relating to the nature of Church government as a Divine institution, and to the power or authority of the Church, its seat and exercise."
READ MORE
LIKE THIS
Subscribe to our weekly newsletter and receive an updated article every week.