Build Back Better for Whom?
George Hutcheson (1615-1674) ministered in Ayrshire and Edinburgh and was a noted bible expositor. Like many other ministers he was removed from his congregation in 1662 for refusing to conform to the rule of bishops.
The slogan "build back better" has been commandeered on both sides of the Atlantic to describe the aspirations for post-Covid recovery. Others have used it to advocate for the changes they want to see. So they ask who are we building back better for? Who will benefit? What will change for everyone? The church has also been hit by the recent crisis and surely it too must consider how to build back up again. Is there a better way? Should we simply reset to where we were before? And if we are going to build back better (in other words reformation), who will that be for?
The prophet Haggai ministered to a people who were having to build things up again after wholescale disaster had visited them. Homes, economy, infrastructure all had to be restored after the seventy years exile. The temple too had been destroyed and while they had laid the foundation for it, political interference had brought further work to a standstill. Through the prophet Haggai, the Lord reproves their comfortable negligence (1:2-4). He exhorts them to consider their condition seriously and God's chastisements (1: 5-6 and 9-11), This is so that they will be stirred up to set about the work of the temple, in which God would show Himself gracious towards them (1:7-8). This results in ready obedience and great encouragement from the Lord (1:12-15).
In Haggai 1:7–8 they are particularly exhorted to consider their ways as the first aspect of obedience. They must examine and confess their negligence and preferring their own interests to God's. Having done this, they are to engage in the work of building the temple. He gives them the encouragement that the Lord would take pleasure in it be glorified in it. They were building for Him and His glory, that is the great purpose of the church and its activity. George Hutcheson reflects on these verses in the following updated extract.
1. Reformation begins with self-examination
Self-examination is a duty to which we are naturally averse. It is a duty which is not often done with any good outcome unless through conviction of conscience we own ourselves guilty of what the Word of God convicts us of. This is necessary for a right reformation of what has been misused. Therefore, it is pressed again and again: "Consider your ways" (Haggai 1:5 and 7).
2. Reformation begins with conviction
The Lord does not approve of amending faults without seriously laying to heart our former disorderly conduct. Tender convictions will not die out nor let the convicted sinner alone until this results in fruits of outward obedience. For these two are joined together: "Consider your ways" and "Go up to the mountain, and bring wood" (Haggai 1:7–8).
3. Reformation is everyone's concern
It is the will of God that His people should be especially careful as they are careful to have to have their own souls and everyone within their charge in a right way, so especially the public work and service of God which concerns set on foot and kept up. For this was in part the meaning and use of this ceremonial temple, to be a place for God's public worship, concerning which all are commanded: "Go up to the mountain, bring wood and build the house" (Haggai 1:8).
4. Reformation brings God's blessing
God evidences His presence among a people by setting up His tabernacle and public worship among them and making them active in advancing it. Where this is the case, it is a pledge that He will not loathe them but make His presence known by gracious acts. He will manifest evidences of His glory there, accept their service as glory given to Him, and give them frequent reasons for glorifying Him. For, "Build the house, and I will take pleasure in it, and I will be glorified" (Haggai 1:8).
5. Reformation delights the Lord
It may be a great encouragement to the Church to do service, that the all-sufficient Lord should condescend to accept any service they can do or own. He will take pleasure in them and it, for so the Lord encourages them. "Build the house, and I will take pleasure in it." That is, your service shall be owned; I will dwell in that which you build (1 Chronicles 29:14; 1 Kings 8:27)
Conclusion
We have an opportunity to stop and to consider. Are we doing the right things in the right way according to what God requires? Are we doing them for His glory or do we have a more man-centred perspective? We need to build on the solid foundation of God's Word and be ready to do all that He requires however much it may cut across our own interests.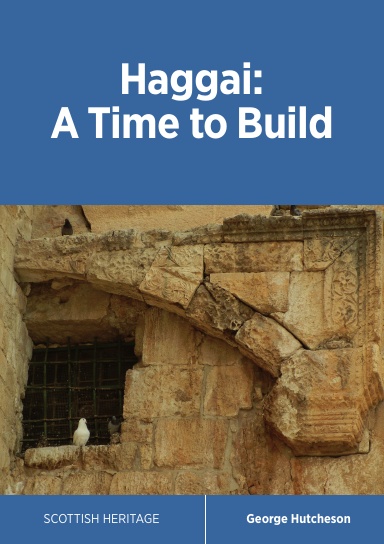 BOOK RECOMMENDATION
George Hutcheson's exposition of the prophecy of Haggai has recently been republished. Exhortations, promises and encouragements graciously abound in this small book and are specially directed to a weary and complacent remnant. George Hutcheson helps us to meditate on and apply the rich spiritual instruction of this part of God's Word to our profit.
It is warmly commended and available for £5.70.
READ MORE
LIKE THIS
Subscribe to our weekly newsletter and receive an updated article every week.